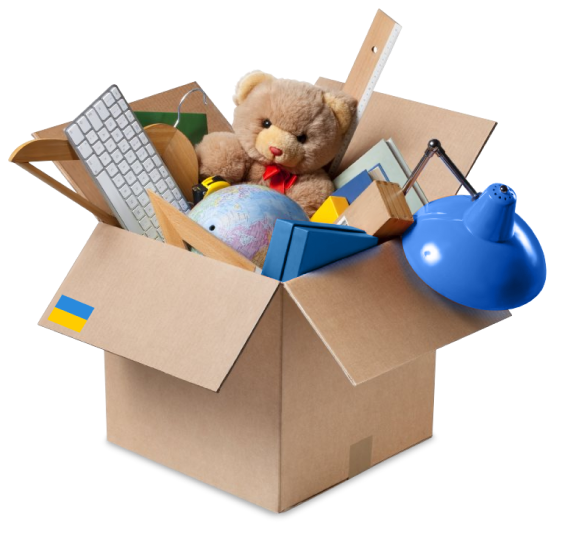 Shipping purchases, goods from the US to Ukraine
Shop on Amazon, eBay, and other US online stores to save up to 80% on shipping with Dnipro LLC and have your purchases delivered to Ukraine quickly and cheaply. Delivery options by air and sea are available.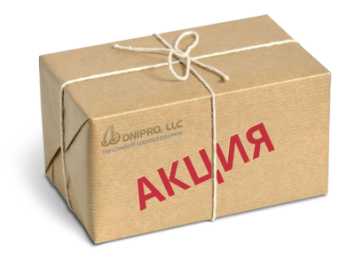 Discount 20%
New customers get a 20% discount on their first order
After receiving your invoice, email us at dnipronj@gmail.com. Get a new invoice with a discount!
How much does it cost to ship a package from the USA to Ukraine?
Type of delivery
Territory
Price/ kg
Estimated Delivery Time
Minimum shipping cost
Avia
Kyiv, Lviv
$ 6,95*
5-10 business days**

to 0.3 kg - $4.95

to 0.5 kg - $5.95

0.5 - 1.07 kg - $8.00

Other regions of Ukraine
$6,95*
Sea
Kyiv, Lviv
$2,92*
5-8 weeks**
from 0 - 1.5 кг - $5.25
Other regions of Ukraine
$3.15*
Expedite Sea
Kyiv, Lviv
$3.83*
3-5 weeks**
from 0 - 1.5 kg - $6.75
Other regions of Ukraine
$4.05*
Guaranteed Express Sea
All of Ukraine
$5.25
15-24 business days***
from 0 - 1 кg - $5.25
$5.25
15-24 business days***
from 0 - 1 кg - $5.25
* The table shows prices for our simple package processing service
**Estimated delivery time to International Service Center (customs post) in Ukraine.
***Delivery terms: 15-24 business days from the moment the container is sent from the US to its arrival at the place of international postal exchange in Ukraine (customs).
Fast delivery by the sea with guaranteed compensation for delivery costs in case of non-compliance with delivery deadlines.
We offer two kinds of shipping services for packages:
Simple service – Choose this method when sending a single store order in one package.
One incoming package to our warehouse = one outgoing order.
The package will be sent without repacking and without the ability to consolidate (combine) different orders.
Full service – Choose this method when sending several orders from different stores in a single package.
This method allows you to consolidate (combine) multiple packages into a single one or deconsolidate (separate) a package into several smaller ones.
Also, this method allows you to order additional processing services (i.e. taking a photo of the goods, checking the goods for defects, recording the unpacking, etc.)
Price for sending packages with full service:
Sea: Delivery to Kyiv, Lviv $3.25 per 1 kg. Delivery to other regions of Ukraine is $3.50 per 1 kg.
Expedite Sea: Delivery to Kyiv, Lviv is $4.25 per 1 kg. Delivery to other regions of Ukraine is $4.50 per 1 kg.
Air: Delivery throughout Ukraine is $7.45 per 1 kg.
Guaranteed Express Sea: Delivery to all regions in Ukraine is $5.25 per 1 kg.
All packages are insured for $60 free of charge. Additional insurance will cost you 2.5% of the insured value.
Customs, duties & taxes in Ukraine.
The cost of goods that can be sent duty-free is 150 euros. Parcels with a value of 150 euros or more are subject to a duty of 10% and value-added tax in the amount of 20% of the amount exceeding the limit of 150 euros.
For example: the phone costs 190 euros. Duty: (€190 – €150) × 10% = €4. VAT ((€190 – €150) + €4) × 20% = €8.8. Tax payable: EUR 12.8.
Storage and additional service fees (for parcel services) 
Delivery type
Title
Delivery price
Delivery time
Max. weight
Duty free limit
Зверн.
Services provided free of charge:
Registering image of incoming parcel
Registering weight of incoming parcel
Removal of packaging of incoming parcel
Removal of invoices within incoming parcel
45 days of storage
Insurance of parcel to the sum of $60
Parcel packaging materials
Invoicing for shipping charges
Invoice payment within personal account
Removing shoe boxes
Weighing incoming parcels
Automatic invoicing
Payment of invoices through your account (cabinet)
Storage of your parcels in our warehouse up to 45 days is FREE of charge
We love our customers, so these services are free!
We love our customers, so these services are free!
Registering on our website
Ordering from online stores
Receiving purchases at our warehouse
Creating a shipment
Receiving a package at your final destination
01
Registering on our website
Once you create an account at dniprollc.com, you will automatically receive two personal shipping addresses in the United States. One of the addresses is for our main warehouse in New Jersey (use this address for clothes and shoes, which are tax-free in New Jersey) and address is for our Delaware warehouse (use this address for other types of purchases, since all goods are tax-free in Delaware). Your address will have a DN number – this is your unique customer code that we use to identify your orders once we receive them. An example DN number would be DN99179.
Example shipping address:
Ivan Melnik, DN99179
645 West 1st Avenue
Roselle, NJ 07203,
02
Ordering from online stores
When you shop at a USA-based online store, you should use one of your personal addresses to a Dnipro warehouse as the shipping address during the checkout process.
Important reminder: Before you buy a product, make sure to check the customs rules and goods that are prohibited from shipment in the country you wish to deliver to.
Make sure you include your unique DN number (e.g., DN99179) in the shipping address! When we receive your package, the first thing we check for to identify it is this DN number.
To further expedite the process, add the package's tracking number in the appropriate section of your account.
If we do not have the tracking number or the DN number, your package will be placed on our Unidentified Package List, and you will be charged $2 per package.
03
Receiving purchases at our warehouse
After we receive your purchases at our warehouse, you will receive an email that the package has arrived at your personal U.S. address. The status of the package in your account will also change.
We will weigh and photograph the package upon its arrival, and you can view these updates in your account.
Next, in your account, create a description of the goods in your order. Make sure to include quantities and item values (this data is needed to fill out the customs declaration).
You can also order additional services for a small fee: a video of the unpacking and repacking process, a product quality inspection, etc. A list of all the additional services we offer is available on our website.
04
Creating a shipment
After your purchase (or several purchases) is delivered to our warehouse, you can form a package to send to your intended destination.
To do this, you need to choose your preferred shipping method and input the recipient and address of delivery in the "Recipients" section of your account.
The recipient is the person to whom the package will be sent. You must include the recipient's last name, first name, phone number, and delivery address.
In your account, you can consolidate (combine) several purchases into one package, or deconsolidate (divide) your order into several packages. The main purpose of deconsolidation is to reduce the weight of the package. Packages with lower weights may not be subject to other countries' import restrictions.
By request, Dnipro LLC offers additional packaging, such as bubble wrapping or other special requests.
All packages are automatically insured for up to $60. If you want to insure above this value, this will cost 2.5% of the total value of the goods in your shipment.
Once your order is complete and ready to ship, you will get an automatically generated invoice. Your package will be sent out once the invoice is paid.
05
Receiving a package at your final destination
Once the package leaves our warehouse, a new tracking number will appear in your personal account, which you can use to track it for the rest of its journey.
The transit time of packages depends on your chosen method of delivery and the destination country. The package will be delivered to your home or specified pickup location, depending on your request and destination country.
Safety
Every month, our customers trust us with millions of dollars worth of purchases, and we do everything possible to prove this trust! One way we do this is by ensuring maximal security: protecting your data on our website, notifying you if a retailer is unreliable, and guaranteeing the physical safety of goods and packages.
Compliance with customs
Transporting a wide variety of goods between countries requires close compliance with the rules of each country's customs regulations. Therefore, the specialists of our warehouse regularly attend trainings and listen to seminars on the changing rules of inernational shipping.
Parcels insurance
All parcels are insured for $60 free of charge. You can also insure the full value of the package at a cost of 2.5% of the additional insured value.
Security Client Data Protection
We do not store our customers' credit card information on our servers. This ensures that your data is always safe.