Delivery of Motorcycles from the USA
Motorcycle (Harley Davidson, Indian, Classic, and other) and ATV Delivery. Dnipro LLC offers delivery services for motorcycles and ATVs from US auctions. Our extensive logistical experience allows us to offer optimal transportation conditions - low prices, efficiency, and guaranteed safety of the motorcycle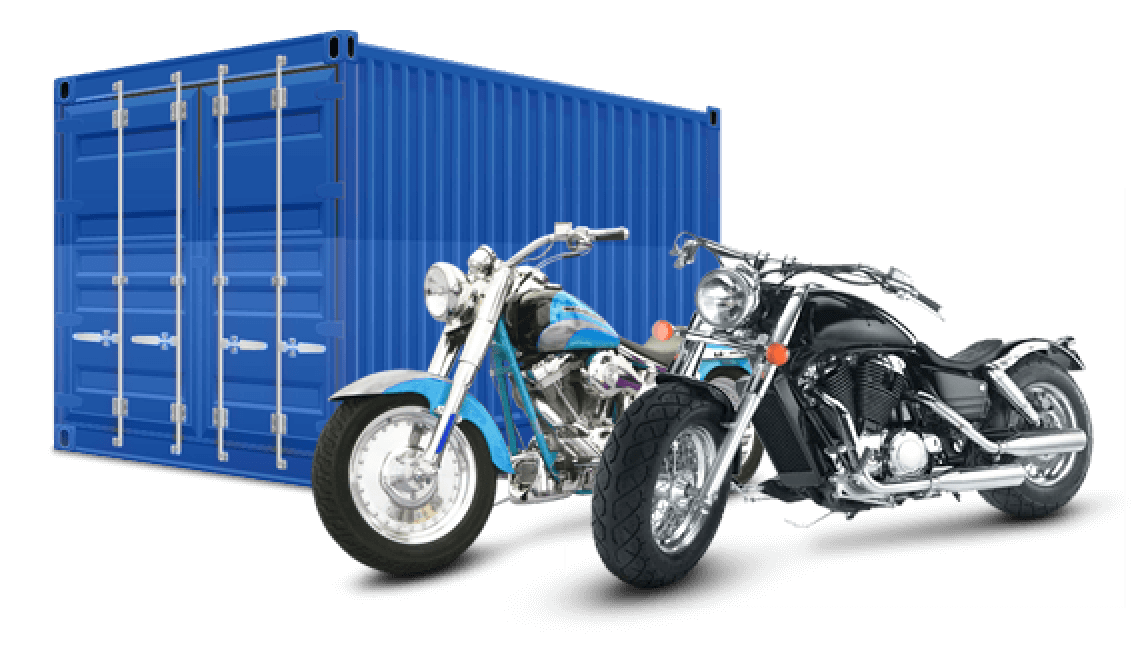 Motorcycle (Harley Davidson, Indian, Classic, and other) and ATV Delivery
If you need to ship your motorcycle from the United States or you bought a new motorcycle at an auction or dealer and want it delivered to you, Dnipro LLC and our team of trucking specialists will safely and promptly deliver the motorcycle to your desired destination.
Our head office and warehouse are located in Roselle, New Jersey.
We provide a variety of motorcycle delivery services:
Transportation from a dealer/auction anywhere in the United States, to our warehouse, to a port in the specified country
Transportation from a port in the United States to a port in your specified country
Insurance, at your request
We work both with dealers and individuals.
We offer consistently low prices, prompt delivery, high-quality service, and guaranteed safety for any category of transport.
Motorcycle delivery from the US is a popular service among our customers. The United States is home to many types of motorcycles, and our international customers consider us the best means of transporting these US motorcycles due to our affordability and reliability.
How it works
a) Fill out the QUICK QUOTE form on DniproLLC.com. This will provide us with all the necessary information to give you an estimate for the price of transporting your motorcycle.
b) Verifying your documents
Before buying a motorcycle that you would like to send abroad, you need to make sure that you or the seller have all the necessary documents to pass through US customs. To do so, our representative will contact you and inform you of what documents are needed.
c) Delivering the motorcycle to our warehouse
Next, the motorcycle is delivered to our warehouse, where our employees will prepare it for further transportation. You can drop it off yourself or leave it to us to organize its transportation to 645 West 1st Avenue, Roselle, NJ, 07203. Once our warehouse receives your motorcycle, we conduct a detailed inspection and take photos of it that you can view online.
d) The motorcycle is loaded into a container (20 'or 40'), which is hermetically sealed and sent to its final destination. When loading and fixing the motorcycle in a container, we use only certified wood, motorcycles are tied and fixed using the "block and bracket" method, fixed with cables and special fasteners, which guarantees their safety and allows them to be delivered without damage (?).
Why should you choose Dnipro LLC?
NVOCC Status
Being an NVOCC (NON-VESSEL OPERATING COMMON CARRIER) enables us to give tariffs directly from shipping lines. No brokers, no additional fees.
Experience and Professionalism
With over 25 years of experience transporting vehicles around the world, we have established ourselves as one of the most experienced international transporters in the United States.
Accessibility
We offer very competitive rates, work on the continuous expansion of our network, and find new ways to make international motorcycle delivery even more efficient and cost-effective for our customers.
Due to the close relationship with so many shipping lines, we can offer such a low price for delivering motorcycles from the US.
Additionally, our resources enable us to maintain a continuous cycle of reception, processing, and dispatching of goods. Our storage facilities (located in New Jersey, Texas, Georgia, and California) are over 12,000 square meters (120,000 square feet) in total area, while our external storage lots accommodate more than 500 cars and a large amount of oversized equipment.
Our customers can take advantage of the ability to store motorcycles on our site for up to 30 days for FREE.
You do not need to pay in advance to place your delivery order. You pay only when your vehicle is ready to be loaded onto the vessel
Automated tracking system
All types of shipments are transported from the United States using an automated tracking system, so the client can check the status and location of their cargo/vehicles.
Safety:
When you ship a motorcycle, whether it be a Harley Davidson, Indian, classic, or other, it will be handled with the utmost care from start to finish.
Our warehouse teams are professionally trained and have many years of experience.
Upon receipt of the motorcycle in our warehouse, we take photos and provide them to our customers, which allows us to closely monitor the condition of the motorcycle
Most popular countries to deliver to:
Germany, Ukraine, Poland, Latvia, Lithuania, Estonia, Finland, United Arab Emirates, United Kingdom, France, The Netherlands, Russia, Georgia, Belarus, Romania, Bulgaria, Nigeria, Ghana
RoRo shipping
Motorcycles can also be shipped using RoRo Shipping
After loading onto the RoRo vessel, each motorcycle is securely fixed in its designated place.
This delivery method is fairly inexpensive and the departure and arrival dates are less susceptible to change than that of shared containers.
Transportation in a shared container
Using this method, motorcycles are loaded into a container in a warehouse. The container must be completely filled to leave the warehouse. This stipulation means that departure dates will be estimated and not exact.
However, transportation in shared containers may be preferred for those seeking a less expensive service. First of all, shipping costs of the container are shared among all customers who have a vehicle on the container, and the price is further lowered when motorcycles are double stacked. Second, this method may be the only available option depending on your destination port.
No motorcycle can leave the US if it has a lien. What does this mean? Your motorcycle must be paid in full. Only the US military and government officials/contractors can send a motorcycle overseas if it is not yet paid for. They can do so, but a letter of authorization must be issued from the lender to go through US Customs. Otherwise, the motorcycle may be considered stolen.
If you bought a new motorcycle, your name must appear on the face of the Title as the registered owner.
If the vehicle has been sold, then both the Seller and the Buyer must sign the reverse part of the Title.
For safety reasons, the vehicle cannot have more than ¼ gas tank full.
Cost of delivery
The cost of shipping a motorcycle from the United States is based on four main factors:
1) Location of the motorcycle
2) Size (width and height) of the motorcycle
3) Delivery method (container, RoRo)
4) The final destination.
For example, the cost of shipping a motorcycle to Europe in a shared container from New York starts at $450. However, shipping 5 motorcycles overseas in your own 20ft container can cost $1,500 in total. For example, the cost of shipping a motorcycle to Europe in a shared container from New York starts at $450. However, shipping five motorcycles overseas in your own 20ft container can cost $1,500 in total
You will not receive an exact rate without providing all the details of the shipment.
To find out more about the different service options available and the cost of shipping your vehicle, fill out a
request
form or contact our managers
info@dniprollc.com